New! - Lightweight - Micro Cushion - Crew Hiker
The BACKPACA Sock is a lightweight hiker sock with terry loop construction along the sole of the foot to provide cushion, padding, and comfort where it's most needed. The ribbed knit along the top of the foot and up the calf allow for increased breathability and moisture wicking. Dense knit construction along with arch and ankle support bands keep the sock tightly in place throughout the day without bunching, slipping, or blisters on the trail.
U.S. Alpaca will keep it's temperature regulating properties both when dry or wet. It's also naturally antimicrobial, bacteria and odor resistant, making it a perfect fit for that next long outdoor adventure.
If you love U.S. Alpaca Socks and have wished for a lightweight, less bulky option, particularly in those warmer climates and months then this is the sock for you!
And shipping is free!
Contents: 60% U.S. Alpaca, 35% Recycled Nylon, and 5% Lycra.
Care Instructions: Gentle Wash & Tumble Low - See Label for Details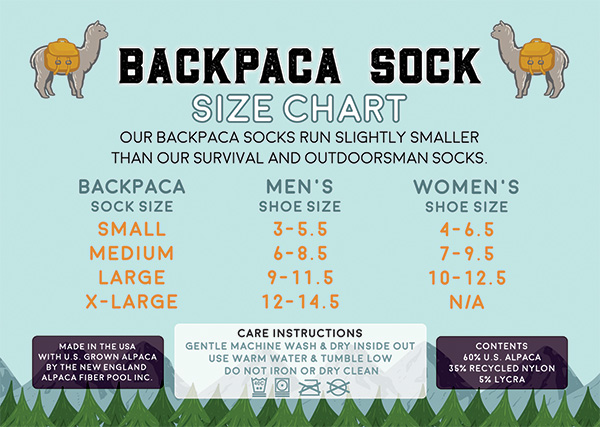 Reviews
I love them. They are so nice and toasty and they keep my feet warm.

I had tried a few other Alpaca-blend socks that, while warm, also tended to bunch up, being too thick and of questionable durability for actual backpacking. These are different, seeming about as tough as my go-to Darn Tough merino socks, but having a silkier feel that I expect will help avoid blisters even better. After several day hikes with them, I've decided to pack 3 pairs for my PCT thru-hike attempt in a couple weeks (one pair for sleeping).

Looking for lightweight hiking socks

My feet sweat in hot weather and .most socks are not comfortable. These are great socks. I've already worn these twice for several miles. They are comfortable and my feet feel great. I highly recommend them